"The Daytime Rep"


Duration: 92 min.

Genre: Mystic, Thriller

Production: "EATV Company", Russia

Year: 2003

General Producer: Sergey Kuchkov, Alexandr Gorelyad

Director: Vitaliy Vorobyev

Screenplay: Vera Fedorova

Cast: Yuozas Budraytis, Nikita Tarasov, Sergey Grekov, Yuriy Sherstnev, Vadim Andreev, Tatyana Arntgoltz, Elena Polyakova, Natalya Chernyavskaya

About: The famous vampire Count Darlak returns to his castle after a hundred years absence. He is hungry and soon people around the castle start to disappear. And only Count's servant, Adam is healthy and alive. His greatest wish to become a vampire himself. Adam is a victim of ship crash... Long time ago the Count has cured the poor boy and made him his daytime representative.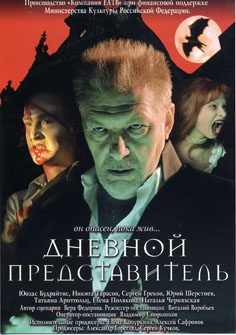 Other Photoes