"Daybreak Explosion" ("Unofficial Assignment-2")


Duration: 80 min.

Genre: War, Adventure, Drama

Production: «Accent Production», Russia

Year: 2005

General Producer: Sergey Kuchkov

Director: Vitaliy Vorobyev, Ivan Krivoruchko

Screenplay: Sergey Sergeev, Vera Fedorova, Ivan Krivoruchko

Cast: Pavel Maykov, Kirill Pletnev, Alexandr Suvorov, Evgeniy Pronin, Egor Rybakov, Yuriy Moseychuk

About: The story takes place in the present day. During the studies the airborne troops come across a bomb system left from WWII. Germans intended to terminate a dam nearby. Suddenly it turns out that the only person able to stop the system from being exploded is the old man Serba who lives in a village not far away. He tells the story of his life of a soldier, fighting for life during WWII at the same place.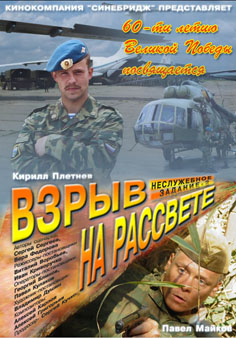 Other Photoes